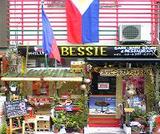 Sun.

Jan. 24, 2010
( Weather )  
Glorious day with completely clear sky!
( wind )  Nothing at all
(Temperature )  Really a warm day exposed to direct rays of the sunshine
It seems a spring couldn't wait?
Only in the morning yet seemed cold though...
I also long for a spring !
======================
【Today's task finished】
Houseworks
Sweeping inside and outside shop
Watering the road faced the shop and plant pots
Tending the shop
Doing the dishes
Helping Bessie's cooking
Bessie:
Cooking
Tailgate sell as attending Mass at the Tamatsukuri church with Kiyoshi
Working for evening shift part-time job Shinobu
----------------------
【Today's business hours: Usual opening 11am-9pm Currently open 7 days a week】
Today's Open: 5:30am - Junichi
Today's Close: Next day at the break of dawn, around 5:00am - Junichi
The time temporally closed today: Nothing
----------------------
【Today's incident】
Another Kiyoshi and a Filipino came in.
Nyanko and a woman from Metro Bank came in.
I had been opening our shop even till this dawn serving foods and beer to Filipina and Japanese.
----------------------
【Private incident】
To see Kiyoshi and Bessie off in front of our shop to Mass with a quick packed lunch box that I made for our son Kiyoshi.
----------------------

【Today's self-reflection】
======================
【Tomorrow's plan】
Routine work
Etc.
======================
【Note】
======================
Private spending: 0
Liquors: 6
Do out: 0
Reading Eng News all of routine: failed
Out Drinking: 0

The routine over completion to read all articles of NHK World English News since first done on Jan. 1, 2010, stay

13

days.

スポンサーサイト
trackbackURL:http://junichikawagoe.blog109.fc2.com/tb.php/322-c56ce94b