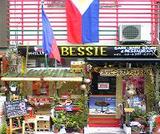 Tues
. Jan. 19, 2010
( Weather )  What a day! Here, as if a spring came with clear blue sky looking so peaceful today as well !!
( wind )  Nothing
(Temperature )  warm
======================
【Today's task finished】
Houseworks
Sweeping inside and outside shop
Watering the road faced the shop and plant pots
Tending the shop
Doing the dishes
Taking Kiyoshi to and from nursery school
Putting goods new arrived in order
Designed our calling card newly attached the introduction to launch new service for translation in Tagalog and English
Made a map to introduce our shop for a new calling card, it is supposed to attach on the back of the card
Delivery with Kiyoshi to Daikokucho in the evening after Bessie out for night shift job
Bessie:
Cooking
Delivery
Working for evening shift part-time job Shinobu
----------------------
【Today's business hours: Usual opening 11am-9pm Currently open 7 days a week】
Today's Open: 5:30am Junichi
Today's Close: 10:30pm Junichi
The time temporally closed today: Just a few minutes in the evening for delivery
----------------------
【Today's incident】
----------------------
【Private incident】
Just renewed a bit my own website

I first tried to chat room on web, even in English at International site, not Japanese chat despite no experience for even Japanese one!
Yeah, it is a kind of nice experience for me to improve more my English, right?
But that is true that room, maybe anywhere in chat rooms are alike, was so hard to follow fellows to talk, really.
OK, now make in my mind to train conversation English in that high speed chat room every day, a kind of 1hour a day as my routine, adding to usual self-education program.

So the following is the one that I tried for the first time chat.
Today I talked with Belgian and American who can chat in a bit Spanish. Maybe for a hour but was so tired for me.

----------------------

【Today's self-reflection】
======================
【Tomorrow's plan】
Routine work
Etc.
======================
【Note】
======================
Private spending: 0
Liquors: Canned beer 1
Do out: 0
Reading Eng News all of routine: failed
Out Drinking: 0

The routine over completion to read all articles of NHK World English News since first done on Jan. 1, 2010, stay

12

days.

スポンサーサイト
trackbackURL:http://junichikawagoe.blog109.fc2.com/tb.php/278-5761d24e