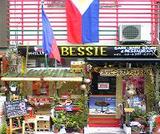 Mon.

Jan. 11, 2010
成人の日
Coming-of-Age Day
( Weather )  Fine
( wind )  Nothing
(Temperature )  Today almost looked as warm as spring!!
Really, I could feel a symptom of spring, it might be hasty though.
======================
【Today's task finished】
Houseworks
Sweeping inside and outside shop
Watering the road faced the shop and plant pots
Tending the shop
Doing the dishes
Arranging the shelves
Cooking for our dishes
Repairing a Philippine tableware
Bessie:
To go to Osakajou st. to meet Vinessa to get two bags containing tablewares from the Philippines.
Working for evening shift part-time job Shinobu
----------------------
【Today's business hours: Usual opening 11am-9pm Currently open 7 days a week】
Today's Open: 10:00am Junichi
Today's Close: Just before midnight Junichi
The time temporally closed today: Usual opening time to 10:00am
----------------------
【Today's incident】
Unexpectedly, kind of more than usual customers came here to shop
Bivin just dropped by for around less than a hour today as well followed by yesterday that may be a good thing for me learning English.
----------------------
【Private incident】
----------------------

【Today's self-reflection】
======================
【Tomorrow's plan】
Routine work
Etc.
======================
【Note】
======================
Private spending: 2850
Liquors:

canned beer 1

and the below mentioned:

Big bottle beer 3




Ref: Yahoo blog


Do out: 0
Reading Eng News all of routine: Failed
Out Drinking: 1700 yen at the first time dropping shop / 500yen at usual Chinese run shop

The days completed to read all articles of NHK World News since first done on Jan. 1, 2010 stay total

9

followed by yesterday.

スポンサーサイト
trackbackURL:http://junichikawagoe.blog109.fc2.com/tb.php/177-00271ddb