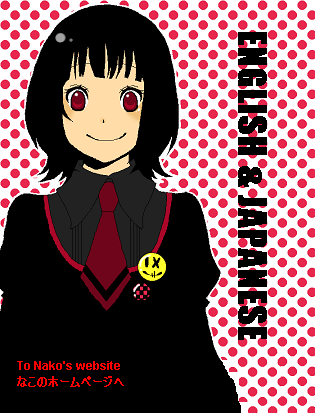 Nako's WEBSITES
Please click below to enter into my website!
   
Hi Japanese friends and peoples from other countries!
How are you getting along with English & Japanese? I do hope that this website would be one of nice places for someone making an effort to improve English and having interest in Japanese culture. I would be more than happy to be of service to you ♪
Please enjoy a pleasant time together with me!!
  
(^_-)-☆ 下記をクリックしてお入りください。
現在、英語力を向上しようと努力をしている方々、日本文化に興味がある外人さんのお役に立てれば嬉しいです♪
Nako's Websites
Today's 英字新聞 翻訳、解説
英字新聞をすらすらと読めるようになりたい!
Please click to enter!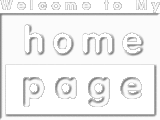 .....Today's My Diary
BBC Radio News started tonight as well: What a grim news...; Nigeria ethnic violence 'leaves hundreds dead
1:02 JST

My twitter
https://twitter.com/JunichiKawagoe/status/10176434443


*** Japan Times E-mail News Service ***
__________ Tuesday, March 9, 2010 ________________
TODAY'S TOP STORIES
=========================
[NATIONAL NEWS]
Yosano faults Tanigaki rule, eyes LDP exit
Former Finance Minister Kaoru Yosano indicates he may leave the Liberal Democratic Party and form a new party, saying LDP President Sadakazu Tanigaki "is not qualified" to lead since he has failed to attack the current administration's shortcomings and thus hasn't attracted voters.
[MORE] ->
http://search.japantimes.co.jp/mail/nn20100309a1.html
---
[NATIONAL NEWS]
'Cove' Oscar is Taiji's chagrin
"The Cove," a film showing the yearly slaughter of dolphins in Taiji, Wakayama Prefecture, takes the Oscar for best feature documentary in the annual Academy Awards ceremony, prompting officials in Taiji to call for understanding of local food culture and long-standing traditions.
[MORE] ->
http://search.japantimes.co.jp/mail/nn20100309a2.html
---
[NATIONAL NEWS]
Minimum guarantee pension eyed
The government begins accepting applications under its new Housing Eco-point incentive system to encourage people to build or buy environmentally friendly homes and make existing ones more energy-efficient.
[MORE] ->
http://search.japantimes.co.jp/mail/nn20100309a3.html
【今日は何の日】3月9日
---
記念切手記念日、関門国道トンネル開通記念日、エスカレーターの日
レコード針の日、ありがとうの日、マッチの日、クジラの日(毎月)

▲剣客・塚原卜伝、没。83歳(1571)
▲甘藷の栽培に成功(1735)
▲学習院の前身、学習所できる(1847)
▲親兵を廃止し、近衛兵を置く(1872)
▲クラーク博士、没。59歳(1886)
▲日本初の記念郵便切手発行。第1号は明治天皇・皇后陛下ご成婚
 25周年記念(1894)
▲ロシアの首都をペトログラードからモスクワに移す(1918)
▲B29、東京に飛来(1945)
▲三原山、大爆発(1951)
▲世界初の海底道路、関門国道トンネル開通。全長3461m(1958)
▲新都庁落成式。48階建て、総工費1570億円(1991)

誕生:アメリゴ・ベスプッチ(探検家1454) ミラボー(政治家1749) 
   梅原龍三郎(画家1888) アンドレ・クレージュ(デザイナー1923) 
   ロイ・ジェームズ(1929) 篠田正浩(映画監督1931) 
   ガガーリン(宇宙飛行家1934) 桂三木助(1957) MIE(歌手1958)
   木梨憲武[とんねるず](タレント1962)

誕生花:から松 (Larch)   花言葉:大胆
---
<松下幸之助一日一話>
PHP研究所編
三日の手伝い
「三日の手伝い」という言葉があります。たとえ三日間の手伝い仕事であっても、その仕事に一生の仕事のような心構 えで真剣に立ち向うならば、そこから必ず大きなものを得ることができる、ということです。そうしてこそあらゆる場面に直面しても動じない精神が身につくと いうことでしょう。そう言うと「本業についたらもちろん一生懸命に努力する」と言う人がいるかもしれません。しかし、私のこれまでの体験から言うと、現在 与えられた、いまの仕事に打ち込めないような心構えでは、どこの職場に変わっても、決していい仕事はできない。これははっきり申しあげることができると思 うのです。

スポンサーサイト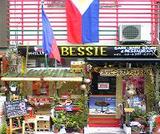 Tuesday, March 9, 2010
( Weather )  Rain all day and night
( wind )  So strong
during the daytime
(Temperature )  Coldest !!!
======================
【Today's task finished】
Houseworks
Sweeping inside the shop
Watering the road faced the shop and plant pots
Tending the shop
Doing the dishes
Taking Kiyoshi to and from nursery school
To Philippine consul with Bessie to deliver due to dropping by the design office on the way back home
Etc.
Hectic days on my own design-related job I was outside and inside our office to cope with my client
And other my own tasks or jobs
Bessie:
Buying materials for cooking
Cooking
Delivery to Philippine consul and others
Working for evening shift part-time job Shinobu
----------------------
【Today's business hours: Usual opening 11am-9pm Currently open 7 days a week】
Today's Open: Opened all night long since yesterday - Junichi
Today's Close: 30 minutes past midnight - Junichi
The time temporally closed today: Nothing
----------------------
【Today's incident】
----------------------
【Private incident】


Since last night Kiyoshi has had a slight fever but he attended nursery school
----------------------

【Today's self-reflection】
======================
【Tomorrow's plan】
Routine work
Etc.
======================
【Note】
======================
【Rest】
●Drinking Inside: 1canned beer
●Drinking Outside: Not done
| | | | |
| --- | --- | --- | --- |
| Shop Name | Spending | No. of Liquor | Alone or not |
| ---------------- | 0 yen | 0 | ---------------- |
| Total | 0 yen | 0 | ---------------- |
●D: Not done

In Nigeria, about 300 people have been killed in clashes between Muslims and Christians.
A Muslim group armed with guns and machetes attacked three Christian villages in the central Nigerian city of Jos before dawn on Sunday.
Local authorities say 300 people, including children and women, died in the assault.
The Nigerian government has deployed security troops to the site, warning that sectarian violence is likely to intensify with retaliatory attacks.
There has been Muslim-Christian fighting in this part of Nigeria for the several years.
More than 200 people died in violence over local election results in November 2008.
In January this year, 300 people were killed in a clash near the latest site.
2010/03/08 21:53(JST)
(JST: UTC+9hrs.)
Japan's current account surplus for January rose sharply compared with a deficit from a year earlier, due to an increase of exports to China.
The Finance Ministry released a preliminary report on the nation's balance of international payments on Monday.
It says the current account surplus totaled 889.8 billion yen, or about 9.9 billion dollars. The figure marked a big improvement from the same month a year earlier, when the current account marked a deficit of about 1.4 billion dollars.
The current account surplus showed an improvement of 5 consecutive months until December last year.
The ministry says the trade balance marked nearly 2.2 billion dollars in surplus. This figure is attributed to 40 percent increase of exports of electronic parts to China and cars to the United States.
The report says the trade balance increase in terms of value from the same month in the previous year posted about 11.1 billion dollars, the largest figure on record since 1986.
Meanwhile, balance of income, or returns and dividend from overseas investments, marked a surplus of about 10.1 billion dollars. The figure is a decline of 8.1 percent from a year earlier, due to lowered interest rates.
The Finance Ministry says the improvement trends centering on China are expected to continue, but it is closely watching the degree of recovery in balance of income for the future.
2010/03/08 15:54(JST)
(JST: UTC+9hrs.)
A record number of Japanese households were living on welfare benefits in December, reflecting a tough job market.
The Health, Labor and Welfare Ministry says more than 1.3 million households were living on welfare benefits in December, up about 14,000 from the previous month.
Of these 14,000, the elderly made up 2,417 households, single mother households 1,480, and households with handicapped people 1,146. An additional 6,013 households, the largest percentage of all, fell into the category of "others," which includes households with jobless adults.
The rise means 1.81 million people were on welfare in December, up 20,000 from a month earlier.
The ministry says the number of households living on welfare has been increasing since early 2009, due to Japan's worsening job market. Over the 12 months to December, the number grew by 147,000 households. That 12.7 percent increase represents more than 204,000 people.
The ministry says it will make it easier for the unemployed to get loans or rent subsidies, to stop welfare enrollment rising.
2010/03/08 06:15(JST)
(JST: UTC+9hrs.)
Iraq war film "The Hurt Locker" has won this year's Academy Award for best picture.
The 82nd Academy Awards, the film industry's biggest
ceremony of the year, took place in Hollywood, Los Angeles on Sunday.
"The Hurt Locker" depicts the suspense and pressures of an American bomb-disposal squad in Iraq in 2004, the year after US President George W Bush officially declared the end of major combat operations.
The film won 6 Oscars, including best director, original screenplay and film editing. Director Kathryn Bigelow became the first woman to win the top distinction.
Despite the absence of top Hollywood actors, the film, with its hair-raising suspenseful moments and portrayals of the cruel tragedies of war, has won all 3 major US critic group prizes, and has been highly acclaimed.
The 3D blockbuster "Avatar" won 3 Oscars for visual effects, art direction and cinematography, but its director, James Cameron, failed to win Best Picture or Best Director as he had with "Titanic" in 1997.
Meanwhile, "The Cove", a film which criticized the dolphin hunting operations in a town in Wakayama, western Japan, was chosen Best Documentary.
The Academy Award winning documentary "The Cove" was filmed over three years starting in 2005 in the town of Taiji, western Japan.
The footage includes scenes of traditional dolphin hunting in a hidden cove and the processing of the marine mammal's meat.
After receiving the award, the director of the film, Louie Psiloyos, and the production staff held a news conference.
Psiloyos said the purpose of the film was to eliminate dolphin hunting as a source of food, and denied that his intent was Japan-bashing.
In Taiji Town, the filming had caused frequent problems between the film crew and a local fishery cooperative association.
The association has asked the film's Tokyo distributor to cancel the documentary's release in Japan, saying the hunting scenes were shot without permission.
The fishery association also said the mercury levels that the film insists are contained in dolphin meat are incorrect.
2010/03/08 22:18(JST)
(JST: UTC+9hrs.)
NHK WORLD dated Monday, March 8, 2010 / 翻訳:川越潤一
【見出しと本文記事】
Hatoyama Cabinet approval 38%, disapproval 50%
An NHK poll shows that approval for the Cabinet of Prime Minister Yukio Hatoyama has fallen to 38 percent, a drop of 9 percentage points from February. The disapproval rating has grown to 50 percent, an increase of 8 percentage points.
- snick -
Asked what they expect most from the Hatoyama cabinet, 25 percent said ...
- snick -
2010/03/08 21:53(JST)
(JST: UTC+9hrs.)
【引用記事】
http://www.nhk.or.jp/daily/english/08_26.html
【単語、解説】
Hatoyama Cabinet approval: 鳩山内閣支持率
(注) Cabinet approval(閣議決定) と間違えないでください。意味が全く違ってきます。その前にHatoyamaの文字があるので、Hatoyama Cabinet(鳩山内閣) + approval(賛成、承認、許可) ということです。
An NHK poll: NHK世論調査
approval for the Cabinet of Prime Minister: 先出の Hatoyama Cabinet approval と同じです。
英字新聞の見出しは、出来るだけ短い単語を使い、省略し、文法的にありえない文章もしばしばです。これらがしょっぱなの見出しから出てくるので、記事の内容を見る以前に、初心者の読解を大きく妨げ、英字新聞を難しく見せて遠ざけています。が、すぐ慣れます。実は、初心者にとっては、その見出しが一番難解な文章なのだと気づき、本文に入るのを恐れないでください。
has fallen: 少し文法の話になりますが、これは現在までに(支持率が)落ちてきたという動きを表す現在完了形です。fell(過去形)との違いを感覚で感じてください。
disapproval rating: 不支持率
Asked what they expect most from the Hatoyama cabinet, 25 percent said ...
今日の目玉です。訳せましたでしょうか?
(when they) asked what...
25 percent said ...は、(People of) 25 percent said ...
と、カッコ内を補ってください。この形は、英字新聞頻出です。
2010/03/08 21:53(JST)
(JST: UTC+9hrs.)
世界時間表示について。。。
http://junichikawagoe.blog109.fc2.com/blog-entry-599.html
【和訳】
鳩山内閣支持率38% 不支持率50%
NHK世論調査によると鳩山由紀夫総理大臣の内閣支持率が、(先月の)2月より9%落ちて38%に下降。不支持率は8%上昇して50%に。
- 中略 -
鳩山内閣に一番期待することは何かとたずねられて、25パーセントの人が。。。と言った。
- 中略 -
2010年 3月8日 午後9時53分 (日本標準時)
(日本標準時: 協定世界時プラス9時間)
【あとがき】
悲惨というより滑稽な喜劇です。。。
PS
今BBC Radio Newsを聞きながら今夜のこの記事を書いていますが。。。
やはり今夜も悲惨なニュースを聞かなければなりませんでした。BBCは毎夜テロ系列のトップニュースばかり。。。
当たり前のように毎夜、毎夜。
申し訳ないことに、かたわらで、You-tubeのなつかしのアイドルを聞きながら聞くことになることもあります。
一番怖いのは、麻痺してしまい何も感じなくなることです。
今夜も恐ろしく冷えています。
大阪の話ですが、明日は雨も降るし、もっと冷えるとのこと。
明日オープンのお店に間に合わせる為、依頼されたポスターのデザインの修正をした後、もうすぐしたら船場あたりの御堂筋沿いのデザイン事務所へ雨の降らないうちに外出します。あちらも、毎日夜通し仕事をしているようで事務所を閉める事がありません。ご苦労様です。
皆様も体調お大事に。
Hapon
(●´∀)ノ" 今夜も有難うございます。おやすみね~♪
☆*:;;;;;:*☆GOODNIGHT☆*:;;;;;:*☆
路地裏の猫ろびeigo! 参加募集中!(Hapon)
Don't hesitate to join us !!
http://smcb.jp/group/11878
critical of: 《be ~》~に口やかましい、~に対して批判的である
Dan was critical of the way his son's wedding was handled.
ダンは息子の結婚式のやり方に口を挟んだ。
If I'm critical of him, people will say it's sour grapes.
もし私が彼に批判的なら人々はそれを負け惜しみだと言うだろう。
(*´I`)y─┛.。o○.。o○.。o○.。o○.。o○.。o○.。o○.。o○.。o○.。o○.。o○
sour grapes:負け惜しみ
【語源】イソップ物語「キツネとブドウ」より
・It was sour grapes on your part. : それは君の負け惜しみだ。
sour-grapes complaint: 負け惜しみ的な不平{ふへい}
cry sour grapes: 負け惜しみを言う
A man reserves his true and deepest love not for the species of woman in whose company he finds himself electrified and enkindled, but for that one in whose company he may feel tenderly drowsy.
男性がいつまでも、心からの、もっとも深い愛情を抱き続けるのは、いっしょにいると、自分自身が感電したかのように、びっくりし、思わず、激しい感情が掻きたてられるような種類の女性ではなくて、いっしょにいると、ついつい、柔和なまどろみに誘われるような種類の女性である。
George Jean Nathan ( ジョージ・ジャン・ネイサン : 1882-1958 )
アメリカの演劇批評家・編集者